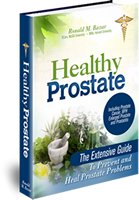 Healthy Prostate:
The Extensive Guide To Prevent and Heal Prostate Problems Including Prostate Cancer, BPH Enlarged Prostate and Prostatitis
Written by Ronald M Bazar,
~BCom, McGill University
~MBA, Harvard University
~the author of this website.
Custom Search
Note Dear Reader...
You must change your diet by stopping those foods that are triggering your condition and replacing them with new ones that nourish you and your prostate.
Then combined with a high quality supplement, you are putting yourself on the road to healing.
There are no shortcuts. Just good changes and little by little you will get better. My books and this site tells you how.
New Book by Author of This Site
Prostate Cancer Prevention Diet Book: What to Eat to Prevent and Heal Prostate Cancer
>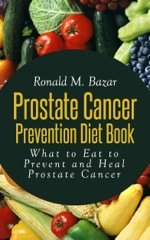 Prostate Massagers for a
Healthy Prostate
Prostate massagers are the safe, modern way to reap the benefits of what used to be done routinely by doctors and urologists to improve blood flow and circulation and to remove toxins from the prostate gland.
This prostate massage device uses sonic pulsations to do the same thing in a fraction of the time and is actually the superior way to do this health practice.
The Prostate Health Center makes these prostate massage devices. They are inexpensive, guaranteed and you can try them for 60 days risk free. See why so many men have benefited from them for their prostate condition.
---
My Story
Over the years, I tried everything I could think of to heal my prostate. I spent a fortune testing what worked and what didn't. I read, read and read some more about the prostate.
I kept all that information and decided to put it into a book as none of the books I read were comprehensive enough. Also, their advice just did not work when followed.
So I wrote "Healthy Prostate" and now I am building this website to share what I have learned. The book, though, is far more detailed than what I present here... filled with insights and tips to help you heal your prostate naturally. You can read parts or all of it to glean what you need.
Want to know what are the best foods to eat for your prostate? Or the worst? Or what supplements will work for you and your unique situation?
Want information on conventional treatments? Side effects? Latest research that sheds light on your real risks? Safe and effective alternative prostate cures and treatments?
You will find answers here that you will not find elsewhere. If you have been disappointed with other sources, then I assure you so was I! That's why I wrote Healthy Prostate and why you will love this book.
Ronald M. Bazar
~BCom, McGill University
~MBA, Harvard University