Custom Search
What Causes Enlarged Prostate Disease In Men?

What does conventional medicine say causes enlarged prostate disease or BPH - benign prostatic hyperplasia, also known as benign prostatic hypertrophy? 
One conventional theory of the cause of BPH is that it results from a decline in the production of testosterone, the body's main male hormone. Interestingly, castrated men don't get BPH. 

As men age, production of male hormones is reduced, but not production of estrogen, which is believed to be responsible for the enlarged prostate tissues. However, some think it is the testosterone that causes it – we'll discuss this later. 

This is similar to how women have a higher ratio of testosterone to estrogen when they go through menopause. In a sense, BPH could be seen as part of a man's version of menopause.
This change in hormones, and therefore prostate enlargement, is strongly correlated to aging. By age 40, the prostate in many men is the size of an apricot, much bigger than a walnut, the normal size. 
At this larger apricot size, the prostate is just starting to press on the urethra and bladder. The symptoms may go unnoticed. By 60, the enlarged prostate is the size of a lemon! More than half of Western men ages 60 and over will have BPH symptoms. After age 80 BPH incidence goes up to 90%. 

Solution on wish list — don't get older! 

But that wouldn't work because the biggest misconception of all is that aging causes enlarged prostate disease. 

Of course, if we are doing things that accumulate slowly and cause prostate conditions, time and/or aging will make it apparent. But aging is NOT the cause! We know this because 90 year-old men in rural Asia have a very low rate of prostate disease. 

So beware of a lot of the information that comes next because believing prostate disease is a natural part of the aging process is a commonly held view. On other pages, I explain what I believe are the true underlying causes — not just the symptoms. 

Many of these so-called mainstream causes of enlarged prostate disease are not really causes, instead they are observations couched as causes. For example, it's generally accepted that hormones are related to BPH. However, no one can absolutely say with confidence why hormones lead to prostate enlargement. 

What has been observed in Western men is this: 

The male hormone, testosterone, peaks during adolescence. 
Testosterone production decreases dramatically by about 55. 
The decline of testosterone causes other hormones like estrogen to be released, which then stimulates further production of hormones. 
Hormones like estrogen can't prevent drops in testosterone. 
An increasing ratio of female estrogen hormones to male testosterone hormones can result in an increase of di-hydro- testosterone or DHT. DHT can irritate and inflame the prostate sometimes causing the prostate to enlarge. 
The result for most men will be enlarged prostate surgery with all the major risks of serious downplayed side effects that result in about 70% of men, not the tiny number your urologist will tell you! 
Even enlarged prostate medications are no fun because they diminish your sex drive and have many side effects as well.


---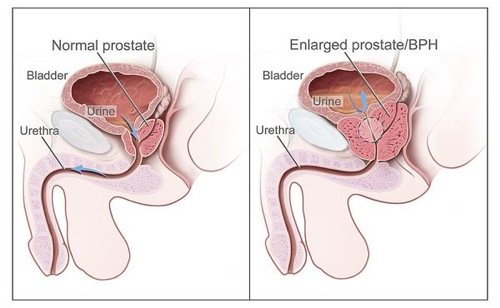 What Causes Enlarged Prostate?

So what causes enlarged prostate disease and these changes in hormone levels? Is BPH inevitable and universal across all men worldwide? No, it isn't! Many remote cultures have virtually no prostate disease. Rural Asians in particular have a dramatically lower incidence of prostate disease. 
Here are some common medical viewpoints or facts about prostate enlargement: 

The likelihood of developing an enlarged prostate increases with age – mostly in Western societies. 
BPH is so common that it has been said all men will have an enlarged prostate if they live long enough – mostly in Western societies. 
A small amount of prostate enlargement is present in many men over age 40 and more than 90% of men over age 80 – again, mostly in Western societies. 
Genetic predisposition, environment, diet and lifestyle are also factors of causes enlarged prostate glands or BPH. See this MedlinePlus article called: "Prostate Diseases". 
For many more insights from a natural perspective on what causes enlarged prostate disease, please go to my book, 
Healthy Prostate:
The Extensive Guide To Prevent and Heal Prostate Problems
Including Prostate Cancer, BPH Enlarged Prostate and Prostatitis


Here is a quote from the book:
To me it is no mystery why we have such sky-high rates of prostate conditions. We have, by design and negligence, allowed our food and environment to become so toxic that disease is the body's healthy response to the onslaught!

Disease happens when the body tries to protect itself from further damage by concentrating toxins and pollutants and other excesses in a less vital organ or area of the body so that the body can still carry on.

The prostate is a deep-inside organ that is vulnerable to toxins just like the breast or uterus. The concentration of toxins in the prostate can result in any of the prostate diseases. Add to this the unhealthy habits of eating poor quality foods, little to no exercise and our sedentary lifestyles and you have a clear understanding of causes.

Each man who reads this book faces a major choice: use your new insights to change your habits and remove the causes so your body can start to heal or submit to the conventional stream with all its unfortunate side effects and consequences.
My book is very extensive and will give you many insights about what causes enlarged prostate disease – and more importantly – what to do to cure it. What foods to take and what to avoid, what supplements and treatments are worth doing and so much more.


Got a Question or Comment about your Prostate Health?
This is the place to post them because I get them immediately.

I like to share them and the answers I provide so others can benefit too.

Your email is kept completely confidential. If you want to be notified when the question is answered, please make sure to add your email address. I don't collect or store these emails after they are used to send you your answer, and they are not posted with your question.
What Other Visitors Have Asked or Said
Click below to see contributions from other visitors to this page...

Prostate calcification and inflammation
I have been suffered from 2005 by prostate infection. First time I got disease from a girl. But I think it treated completely. Next winter I broke my leg …
Return from What Causes Enlarged Prostate Disease to Symptoms of an Enlarged Prostate

Go to Causes of Prostate Diseases