Custom Search
Using a Prostate Massage Device for a Healthy Prostate

A prostate massage device is one of best the ways to get the significant health benefits from massaging your prostate. As you read on other pages, the rates of prostate cancer and other prostate problems are at record proportions. Therapeutic prostate massage is one way to maintain a healthy prostate. 
Western men, in particular, are at great risk, with 6.5 million American men visiting a doctor for prostate enlargement annually. What are we doing wrong? 

While I answer that on other pages, such as causes and lifestyle choices, there are things you can be doing right - right now! 

Although no longer standard practice, doctors and urologists used to massage the prostate during a routine part of the Digital Rectal Exam. It was done in order to remove stagnant fluids and increase blood flow. 

This is no longer standard practice and is considered alternative prostate massage therapy. However, conventional medicine still recognizes the benefits of this therapeutic male prostate massage. You might not like idea of using your own finger, but a prostate massage device can work very well, too.

In fact these specially designed plastic devices make prostate massage easy and comfortable to do. Most importantly, their design prevents injury as long as it is used correctly - meaning gently. 
The original design and excellent product - the Pro-State Massager - is made by a very reputable company. Here is the link to the Prostate Massager. While on the site read the testimonials.
Not only is the device good for the prostate but many men achieve success with erectile difficulties, probably because the prostate massage device moves stagnant fluids and stimulates the prostate erection nerves. 

This is a picture of the Pro-State prostate massage device. The small tab at the bottom left will be positioned between your scrotom and anus so that it provides an external massage point for your prostate. It also serves to ensure the perfect positioning of the massager and prevents it from going too far into the rectum. The other open circle is the handle. 

As you can see, the device has a slight bend near the tip. This bend will be forward once inside your rectum because the prostate is forward from the rectum but adjacent to it. This way it is perfectly aligned to do its job: gently massage your prostate gland safely and easily.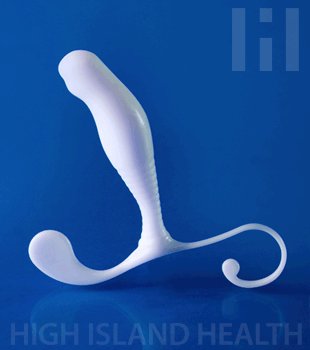 Prostate Massage Device
You can click on the image to go to their site for more info. Then once you get your prostate massage device, I think you will find next some great tips on how best to insert it easily on this site. You won't find these tips elsewhere so remember to come back here once you get your Aneros Prostate Massager. 
Advantages of a Prostate Massager 

At least 2 key advantages exist:

1. Safer: why? 

a. Because they can only go in so far, not too far that can cause too much pressure and risk damage to the prostate gland; and, 

b. unlike a fingernail left untrimmed, cannot cause any scratching of the gland
c. the right amount of massage pressure is used by doing the kegel squeezes as described in the instructions and my tips below. 
2. Better: why? 

Because the Aneros Prostate Massage Device massages more of the prostate surface than a finger or anything else can do. This means more territory is covered getting to spots that a finger will be unable to reach, providing the benefit of more circulation and fluid release. 

These are truly wonderful inventions that make internal prostate massage easy and very safe to do.
Prostate massagers are wonderful because they massage the prostate gland automatically while you simply lie there relaxed doing gentle kegel squeezes. The massager is designed to move only as much as those squeezes allow and are specifically designed for this purpose. 
They cannot slip too far in or create too much pressure by accident because of their great design. Basically you follow the above instructions using the massager instead of a finger. A prostate massage will leave you feeling great. 

Prostate massage has many benefits. Using a proper prostate massage device makes it easy to do and very rewarding for your health. For those who are adventuresome, try using the device with sexual stimulation for amazing prostate orgasms!

Sonic Prostate Massager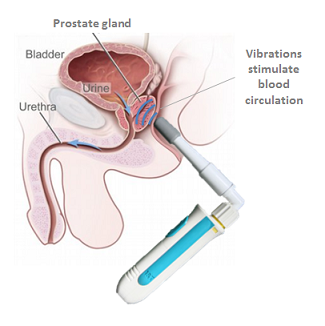 There is another type of prostate massage device that I highly recommend for prostate health, especially if you have a prostate condition. 
These sonic prostate massagers are state of the art, run on batteries provided and use sonic pulse waves to increase blood flow in the prostate. 

This helps eliminate toxins that build up by increasing circulation. And it's fast! 

Yes it takes less than 2 minutes (in fact it is very important not to overdue the time) and is easier to insert because it is much smaller. 

It was designed by a doctor for his own condition and it works well on many men. 

It is called the Sonic Prostate Massager and is easy to use because it is much smaller so it goes in no hassle. (Don't exceed the recommended time as it really does do the job). 

It increases circulation so that toxins are removed and the extra blood flow allows flushing and hence healing. 

Designed just for the purpose of non sexual prostate internal massage this is the state of the art device. 

I would check it out. It is not expensive at all and well worth trying: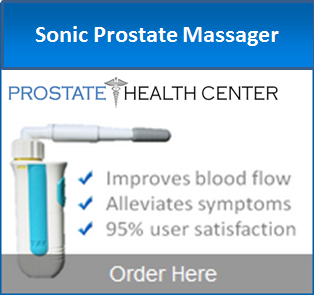 Go from Prostate Massage Device to Prostate Massage Benefits 

Got a Question or Comment about your Prostate Health?
This is the place to post them because I get them immediately.

I like to share them and the answers I provide so others can benefit too.

Your email is kept completely confidential. If you want to be notified when the question is answered, please make sure to add your email address. I don't collect or store these emails after they are used to send you your answer, and they are not posted with your question.
What Other Visitors Have Asked or Said
Click below to see contributions from other visitors to this page...