Custom Search
Prostate Cancer Hormone Treatment – A Viable Option?
Among the unnatural prostate cancer hormone treatment options recommended by the medical world for prostate cancer is hormone therapy.
The purpose of hormone therapy  for prostate cancer is to stop the male hormone, testosterone, from stimulating prostate cancer cells by blocking or reducing the testosterone produced in the body.
This form of treatment is under intense scrutiny as it carries huge, irreversible risks and dangers with little or no benefits. By looking at the types of prostate hormone therapy, their side effects, studies and alternatives it is clear that offering this type of treatment is boarding on negligence from the medical professionals.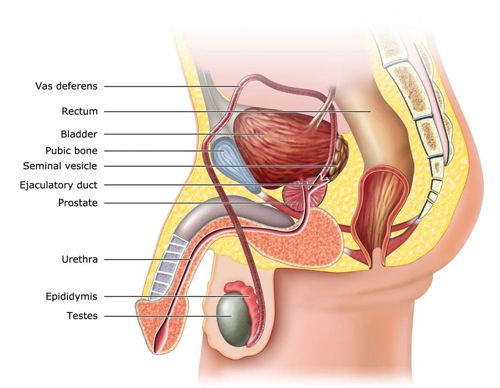 Prostate Cancer Hormone Therapy: Types
Orchiectomy (surgical castration)
Although a type of surgery, this method is used as a form of hormone therapy. The operation involves a surgeon removing the testicles where the body makes most of the androgens (testosterone). By doing this the prostate cancer will cease to grow or shrink for a period of time, however, the procedure is permanent.

Luteinizing hormone-releasing hormone (LHRH) analogs
These drugs are designed to lower the amount of testosterone made by the testicles and is commonly known as chemical castration because the lower androgen levels just as effectively as orchiectomy. The drugs allow the testicles to remain, however, they will shrink over time and eventually become too small to feel.
These drugs are the most popular form of prostate cancer hormone treatment and taken either by injection or as small implants under the skin. LHRH analogs include; leuprolide (Lupron, Eligard), goserelin (Zoladex), triptorelin (Trelstar), and histrelin (Vantas).
Prostate Cancer Hormone Treatment: Side Effects
The side effects that occur alongside hormone therapy for prostate cancer are unavoidable and irreversible, and have been recognized as such by medical professionals. "The side effects….are part and parcel of that particular approach to therapy," said Durado Brooks, director of prostate and colorectal cancer at the American Cancer Society.
The most common side effects include:
Decreased mental capacity, feelings of depression and tiredness
Decreased bone and muscle mass
Weight gain
Hot flashes
Anemia
Sore breasts/ growth of excess breast tissue
On top of these side effects there is the loss of sex drive, erectile dysfunction and other general sexual problems. The effects of this can be destructive to your relationship, masculinity and overall happiness.
Prostate Cancer UK have provided answers to the questions most men ask regarding sexual problems relating to prostate cancer hormone treatment and although a positive spin has been put on the answers it is clear that the effects are devastating.

Prostate Cancer Hormone Therapy: Studies
A study which was published in the Journal of the American Medical (JAMA) Association have shown that men who undergo hormone therapy for prostate cancer are dramatically at greater risk of kidney failure, heart attacks and strokes.
The study found for every 1,000 men who undergo hormone therapy for five years, there will be an additional 360 cases of diabetes, 315 cases of heart disease, 42 strokes and 28 heart attacks in addition to being 2.5 times more likely to suffer kidney failure. (http://consumer.healthday.com/cancer-information-5/mis-cancer-news-102/adt-and-kidney-failure-678336.html)
Another study looked at the records of 30,642 Swedish men with locally advanced or metastatic prostate cancer who had received hormone therapy between 1997 and 2006 and compared their rates of heart problems with those of the general Swedish population.
This study revealed that there is an elevated risk of heart problems associated with prostate cancer hormone therapy and even more worrisome, the problems began only months into the treatment. The study lead to the American Cancer Society quoting "Hormone therapy does not cure prostate cancer" on their website. (http://www.cancer.org/cancer/prostatecancer/detailedguide/prostate-cancer-treating-hormone-therapy)
Another article published in JAMA found that there is no improvement for life expectancy when treated by hormone therapy. Lu-Yao of the Cancer Institute of New Jersey conducted a study of 19,271 men aged over 66 who were diagnosed with localized Stage 1 or 2 prostate cancer. Of these men 41% received hormone therapy and the rest received conservative management including watchful waiting.
The study found the survival rate of men receiving hormone therapy was 80.1% whereas the survival rate of the other group was 82.6%, meaning the hormone therapy group had a lower survival rate. (http://www.medicalnewstoday.com/articles/114023.php)
Prostate Cancer Hormone Therapy: Alternatives
It is clear that hormone therapy for prostate cancer is a risky, dangerous and painful option for men with prostate cancer.
It makes no sense to put your body through the side effects and health risks associated with prostate hormone therapy when there are better, natural options available to you.
If you had a greater life expectancy with the prostate cancer hormone treatment or fewer side effects and better quality of life, yes then it may be beneficial. But clearly these positives do not happen.

Overhauling your diet and changing your lifestyle can help you tackle prostate cancer without aggravating the cancer, awful side effects or added health risks.
Remember that prostate cancer is a natural reaction of your body to protect itself from harmful toxic build-up in your body. Better to sacrifice the prostate with cancer than to allow cancer cells to migrate throughout your body. This is your body wisdom at work.
Your wisdom now is to learn about the causes of your prostate cancer so you can stop the inputs of toxins and start to remove them through cleanses, prostate exercise, sunlight and the eating of real wholesome foods.
You have much to learn. My point of view is simple: stop the causes and allow your body to heal. Avoid modern medicine's insane approach to disease like prostate cancer hormone treatment that ignores the causes and uses even greater toxic methods to make your life miserable and not better.
You have time on your side. Stopping the causes will slow the growth of the cancer. Cleansing and other treatments like getting lots of early day or later day sunlight will drastically help reduce your cancer risks.

Read about ways to naturally deal with prostate cancer in my book Healthy Prostate: The Extensive Guide to Prevent and Heal Prostate Problems.
Go from Prostate Cancer Hormone Treatment to

Hormone Treatment for Prostate Cancer
Go to Causes of Prostate Cancer
Got a Question or Comment about your Prostate Health?
This is the place to post them because I get them immediately.

I like to share them and the answers I provide so others can benefit too.

Your email is kept completely confidential. If you want to be notified when the question is answered, please make sure to add your email address. I don't collect or store these emails after they are used to send you your answer, and they are not posted with your question.