Custom Search
Enlarged Prostate Medications: 
Are They Safe to Take?
Enlarged prostate medications are highly promoted by drug companies since the drugs are very profitable and a man could take them for years.
The question then to ask is: How safe are BPH drugs to take on a regular basis, and how well do they work? 

Another key question: Are there alternatives besides enlarged prostate medications and surgery for men suffering from BPH symptoms?

 Let's review the info on the drugs first and then we can talk about your choices. I faced all these questions and more – I was suffering from acute urinary retention or complete inability to pee from my enlarged prostate gland. 

There are several enlarged prostate medications to shrink or relax the prostate to keep it from blocking the bladder opening. 

Alpha 1-blockers (doxazosin, prazosin, tamsulosin, terazosin, and alfuzosin) relax the muscles of the bladder neck and prostate. This allows easier urination. Most people treated with alpha 1-blocker medication find that it helps their symptoms. 
Finasteride and dutasteride lower levels of hormones produced by the prostate, which reduces the size of the prostate gland, increases the urine flow rate, and decreases symptoms of BPH. It may take 3 to 6 months before you notice much improvement in your symptoms. Potential side effects related to the use of finasteride and dutasteride include decreased sex drive and impotence. 

Read more about enlarged prostate medications at MedlinePlus Medical Encyclopedia.
BPH Drug Side Effects
When it comes to enlarged prostate medications, there is a long list of side effects. 
The percentages of men who will suffer one or more side effects vary for each of those listed. These percenatages are understated by the drug companies and doctors. Enlarged prostate drugs can mess you up. 

Now look at this: Finasteride is prescribed on the belief that it reduces the incidence of prostate cancer by 25%, yet the Norris Cancer Institute showed that patients taking Finasteride had an increased risk of getting the aggressive and fatal form of prostate cancer by 300%! 

YIKES! You may pee better for a while, but end up with prostate cancer from these enlarged prostate drugs! No thanks! 

Another study showed that Proscar/Finasteride increased the chance of getting male breast cancer by 34%. 
The Food and Drug Administration (FDA) panel of cancer experts voted 17-0 with one abstention stating that the risks of Merck's Proscar outweighed its benefits. In a similar vote, the panel voted 14-2 with two abstentions against GlaxoSmithKline PLC's Avodart. Both drugs are already approved to treat enlarged prostate. 
Why are these BPH drugs allowed to be sold? Because they are profitable. Many people accept the risks and try these conventional procedures. It was not my choice. I decided it was much more important to address the causes and make changes so that my overall health improved. My prostate symptoms eased as a result. 

You may disagree with his politics, but Ron Paul's description of how the FDA works to allow dangerous products to be dispensed and to prevent healthy natural ones from being sold is worth watching (around 4 minutes only).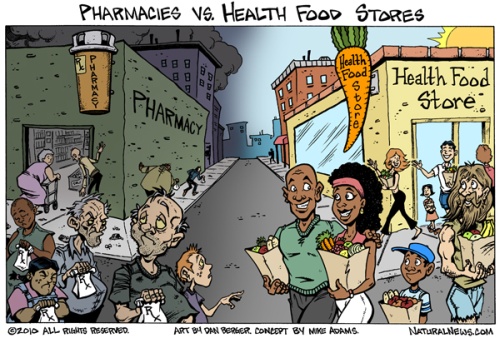 ---
Enlarged Prostate Medications?
This is a major choice for you, dear reader! How do you want to live? Do you want to surrender to the medical profession that pays no attention to other modalities and alternative ways of healing and writes them off as valueless? 
My intention in writing my book, Healthy Prostate, and this site is to educate you about your prostate, give you mainstream information and treatment options so you can evaluate those options, and then offer you alternatives so you can evaluate those options as well. 
I then provide you with a roadmap that you can customize for your own optimum prostate health. 

If you want to boggle your pee brain (pun intended!), then you can read some mainstream literature here: PubMed. Try searching under BPH and see what you get. Or search for prostate cancer, and you'll find thousands of articles on each search! 
To read more about natural insights and treatments for the prostate, then visit the NaturalPedia website and, more specifically, the search results for "Prostate" and "BPH". 
Just so you know, many proven alternative natural prostate treatments exist that have no side effects. Why not try them instead? Combined with an optimal diet, you can minimize the symptoms of an enlarged prostate. I avoid enlarged prostate medications completely.
Return from Enlarged Prostate Medications to Home Page

Go to BPH Drug Side Effects 

Got a Question or Comment about your Prostate Health?
This is the place to post them because I get them immediately.

I like to share them and the answers I provide so others can benefit too.

Your email is kept completely confidential. If you want to be notified when the question is answered, please make sure to add your email address. I don't collect or store these emails after they are used to send you your answer, and they are not posted with your question.
What Other Visitors Have Asked or Said
Click below to see contributions from other visitors to this page...

PEEING IS CRAZY !!!
Hi, I am a 67 year old male and have started having some health problems. This one is PEEING! I went to the Dr. and he perscribed the drug "Flow Max" …
A penile catheter for three weeks
I suddenly experienced accute retention two weeks ago. Doctor had me fitted with penile catheter and prescribed tamusolsin. Catheter is to be removed after …