Custom Search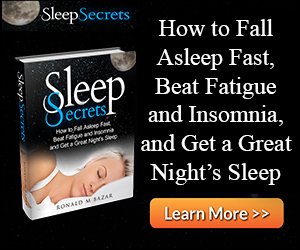 Sleep Secrets:
How to Fall Asleep Fast,
Beat Fatigue and Insomnia and
Get a Great Night's Sleep
Why should you read Sleep Secrets book?
How different would your life be if you experienced a deep, restful and rejuvenating sleep night after night?
Imagine going to bed, turning off the light, putting your head on your pillow and falling asleep in minutes. It's possible.
There is no one-size-fits-all approach to solving your unique sleep difficulties because the problems that stand in the way of having a good night's sleep are unique to each of us.
And that's where Sleep Secrets displays its strength.
To help you find what works for you, the resources in this book are drawn from ancient time-proven sleep wisdom to cutting- edge products, from expert sleep-doctor advice to insightful tips, from new research insights to highly successful mind-body methodologies and breakthrough practices.
It is a comprehensive, educational and entertaining sleep resource guide designed to help you find your unique sleep solutions.
Sleep Secrets

is for you if:
you have trouble sleeping even when you're tired you feel anxious about going to bed
 you worry instead of falling asleep 
you take more than 30 minutes to fall asleep 
you wake in the night and take more than 30 minutes to fall back to sleep 
you have sleep patterns that negatively affect your sex life 
you want to stop taking sleeping pills and antidepressants 
you wake up exhausted you are fatigued at work you are drowsy, irritable or have difficulty concentrating you are moody or depressed you are gaining unwanted weight 
you suffer from increasing health issues  or need snoring solutions

you realize lack of sleep is affecting your work, your relationships and possibly your physical safety 
Insomnia and sleep disorders increase the stress in your life. It can lead to depression, foggy thinking, home and work problems, poor relationships and many serious health issues.
Let's face it: insomnia can really take the fun out of living.
But there's hope!
I've spent decades gathering the most effective tools and techniques for getting a great night's sleep, and now I'm sharing them all with you.
Sleep Secrets gives you all the information you need to change your sleep habits forever.
I guarantee that you will find more great sleep advice in Sleep Secrets than in any other book about sleep; it's the most comprehensive resource guide for the wonderful world of sleep.
You will find enough sleep ideas in this book to change your sleep habits forever and to help you enjoy deep sleep at last.
Solve your sleep problems at last!

Doctors, sleep experts and sleep research specialists offer their advice on how to deal with sleep deprivation. However, there simply is no one-size-fits-all approach.
That's the magic of Sleep Secrets, your complete resource guide to insights from the world of sleep ... so you can find what you need to turn your unique sleep problem around.
You'll even find tips that are not widely known by experts in the field. And along the way not only will you learn a ton about sleep, you'll also have fun doing so!
While the focus of the book is on how to beat sleep deprivation and insomnia, I do offer many solutions to the common problems of snoring and sleep apnea, plus special sections for the unique sleep problems of babies, teens and elders.
All you have to do is cherry-pick the techniques that resonate with you ... and rejoice when you find the breakthroughs that lead to your enjoying a peaceful night's sleep.
~~~~~~~~~~~~~~~

Got a Question or Comment about your Prostate Health?
This is the place to post them because I get them immediately.

I like to share them and the answers I provide so others can benefit too.

Your email is kept completely confidential. If you want to be notified when the question is answered, please make sure to add your email address. I don't collect or store these emails after they are used to send you your answer, and they are not posted with your question.