Custom Search
Sonic Prostate Massager for Prostate Health
If you want a state-of-the-art sonic prostate massager then the Prostate Health Center is where to go to get this beauty.
It is the easiest prostate massager to use because the head is smaller than other massagers allowing much easier insertion in to the anus and it is fast to use!

---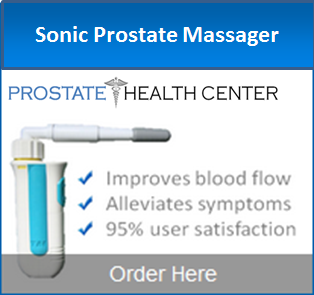 Takes only 60-120 seconds!

That's right! Because of the sonic waves, your massage is done and over in the time you can hold your breath.
In fact you have to start real slow and easy to ensure you do not overdo it - 60 seconds is all you need. Other massagers take 20-40 minutes to get their benefits while this is so quick and easy

    ✓    Improves blood flow in affected muscles surrounding your anus, prostate gland and lower colon areas
    ✓    Improves lymph fluid flow, which is responsible for cleansing of the blood in the affected areas
    ✓    Stimulates nerve endings and improve erectile function
    ✓    Strengthens and tones the prostate area muscles, which has lost its function due to age
    ✓    Reduces and reliefs many symptoms of prostatitis and BPH
    ✓    Strengthens bladder control, improves urination flow and relieves pain

Instructions for Use

1. Apply lubricant to the rubber part of massager head and anus. Natural lubricants such as Vaseline are best.
2. Press the "on" button and slowly insert massager in to the anus for 5-9cm (2-3.5 inches)
3. Keep massager straight inserted about 15 sec. Anus muscles will relax after 15-20sec.     
4. Slowly move massager towards the prostate gland location. Simply move handle up or down, this way you will locate prostate gland and control pressure. You can support massaging head with your fingers in bent area. Keep the massager gently pressed against the prostate gland for 60-120 seconds.
5. Since the massage area is not visible to you it is advisable to move and hold the massager head around the prostate location 1-2cm (0.4-0.8 inches) in each direction (in/out/left/right) to maximize impacted area.
6. Slowly extract the massager head and rinse under running water with soap.
Note: For best results perform the massage 1-3 times a week.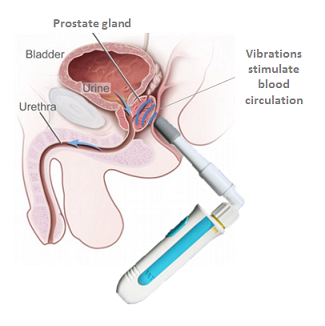 Sensual Prostate Massage
If you are looking for a sensual prostate massage then the ideal massager for this purpose is the Pro State Prostate Massager. It is designed for both health improvement and if desired can also be used for a sensual massage by yourself or with a partner...
Go to Sexual Prostate Massage

Go from Sonic Prostate Massager to Prostate Massage Benefits

Got a Question or Comment about your Prostate Health?
This is the place to post them because I get them immediately.

I like to share them and the answers I provide so others can benefit too.

Your email is kept completely confidential. If you want to be notified when the question is answered, please make sure to add your email address. I don't collect or store these emails after they are used to send you your answer, and they are not posted with your question.
What Other Visitors Have Asked or Said
Click below to see contributions from other visitors to this page...

Prostate enlargement
Is there any evidence to indicate that the Sonic Massager reduces the size of the prostate gland?? ------------------ Ron here... I don't know of …
Massage after TURP?
Hi, Is there any benefit to massaging after having had a TURP procedure? Regards, Keith keithf@grantplantmaidenhead.co.uk ------------- …