Custom Search
Searching for the Cause of Prostate Cancer

What is the cause of prostate cancer? If you're like I was, you might be spending a lot of time on the computer or in books looking for answers. During my 8 plus years of research, it became clearer and clearer to me that nobody is going to come right out and say, "This is the cause of prostate cancer!" 
In or modern day, we are taught to believe the doctors, believe the scientists, believe all the authorities except ourselves. If that is where you're still sitting, then what could be more believable than a report put out by the National Cancer Institute, entitled "2008-2009 President's Cancer Panel Report: Reducing Environmental Cancer Risk - What We Can Do Now"?

Cause of Prostate Cancer: Panel on Cancer Carcinogens
This progressive analysis by the President's Cancer Panel took courage to publish. It goes against the mainstream. It shows the dangerous effects of toxins on the nation's health and indicates that toxins are a major cause of cancers, including the cause of prostate cancer. 
This obvious conclusion is denied by most cancer agencies and the medical profession, yet is a major breakthrough at the government level. 

The analysis, published by the National Cancer Institute, even cites the danger of excessive CT scans and the like as a cause of cancer! It is worth reading, especially if you're like I was - looking for possible prostate cancer causes.
---
Here are some of the highlights of that report that will shock and surprise you: 
In 2009, approximately one and a half million Americans were diagnosed with cancer, and 1/3 of those died from it. 
A staggering 41% of Americans will receive a cancer diagnosis, while 21% will die from it. 
There are nearly 80,000 chemicals on the market in the US, making exposure to these potential environmental carcinogens widespread. 
Bisphenol A (BPA), unregulated in the States, is still found in many consumer products, despite the fact that there is growing evidence of a link between BPA and several diseases, including various cancers. 
It's believed by some scientists that current toxicity testing and exposure limit-setting methods don't accurately represent the nature of human exposure to these potentially harmful chemicals. 
This is nearly unbelievable! Did you know that only a few hundred of the more than 80,000 chemicals Americans use have been tested for safety? 
Toxic and hormone-disrupting substances and chemicals have been found in maternal blood, placental tissue, and breast milk samples from pregnant women and mothers who recently gave birth. That means chemical contaminants are being passed on to the next generation! 
Numerous environmental contaminants can cross the placental barrier … babies are born "pre-polluted". The PCP Report states there is a critical lack of knowledge and appreciation of environmental threats to children's health. 
The entire U.S. population is exposed on a daily basis to numerous agricultural chemicals that are known or suspected carcinogenic or endocrine-disruptors. 
Pesticides (insecticides, herbicides, and fungicides) applied to industrial agricultural crops and sold at your grocery store are approved for use by the U.S. Environmental Protection Agency (EPA) although many of the active ingredients are toxic. 
Many of the solvents, fillers, and other chemicals listed as inert ingredients on pesticide labels also are toxic, but are not required to be tested for their potential as cancer carcinogens. 
More and more of the population, including younger people, are using cell phones and other wireless technology - see my page on EMF Health. 
Medical imaging and other medical sources, are now responsible for Americans receiving nearly half of their total radiation exposure, compared with only 15 percent in the early 1980s. 
Clearly we are the victims of exposures to toxins that do us harm. Is the solution for prostate cancer to add to the body's burden by submitting to the recommended additionally toxic procedures? 
Take a look at this list of carcinogens put out by the American Cancer Society. Many are found in the food supply, common household products, drugs and medicines, and scores of manufactured items. 

Why in the world are they not banned? No wonder cancer is epidemic. It is not our "genes" that are the cause. The cause of prostate cancer is what we eat and are exposed to daily. Educate and protect yourself.
To ensure you are best equipped for prevention and an understanding of the cause of prostate cancer, continue to read pages I've added under the heading "Causes of Prostate Disease." 

I also have all of this information and more in my book, Healthy Prostate: The Extensive Guide to Prevent and Heal Prostate Problems. 

Remember that one of the key functions of the prostate gland is to remove toxins from the sperm and semen. So no wonder prostate cancer is now so prevalent - the toxins finally catch up with us. 

Lack of Sunlight and Vitamin D: Major Cause of Prostate Cancer
Lack of sunlight and adequate Vitamin D levels are a huge contributing reason so many men now get prostate cancer. Because we spend so little time outdoors, we are very deficient in Vitamin D. The further north you live and the darker your skin the greater the risk of prostate cancer. Add sun and Vitamin D to reverse and protect you from prostate cancer. If you are not sure get a Vitamin D test to check your levels. 
Vitamin D actually acts like a hormone in the body and is crucial for prostate health, let alone your overall health. Most men are terribly low in vitamin D, especially black or darker-skinned Americans, whose skin color was designed to withstand lots of daily sun exposure. 

In the winter in the US, most people are extremely deficient in vitamin D because of the lack of sun exposure. Black Americans have the highest rates of prostate cancer. Many practitioners correlate that risk with low levels of vitamin D. 

Chronic Vitamin D deficiency is a real factor in the cause of prostate cancer. Solution: get sun on you or add Vitamin D3. Then other changes and herbs have a chance to help.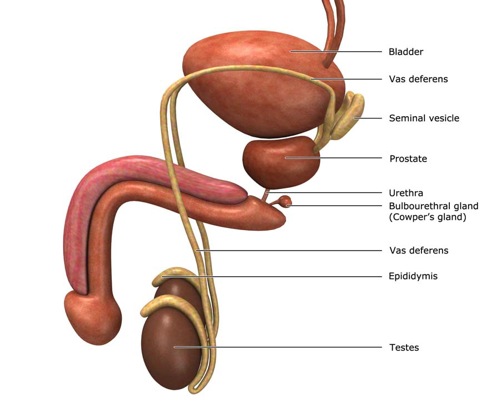 Prostate Cancer Herbal Cure?
Here is an article that just was published – using herbs successfully to treat prostate cancer in mice. 
What I like about this approach is that all natural ingredients were used. I would add the importance of stopping the cause of prostate cancer by ensuring that you eliminate all foods containing carcinogens from your diet or else nothing will work for you. 

This is from the formulator of the product Dr. Isaac Eliaz: 

"Prostate cancer remains a leading cause of cancer-related deaths for men in developed countries, and it can often be difficult to treat using conventional therapies alone. 

As a product formulator and prostate cancer expert, I have researched numerous all-natural ingredients that can safely and effectively halt or slow prostate cancer progression. The result is my all-natural integrative prostate formula that was most recently studied at the Indiana University Health Methodist Research Institute, and appears in the January 2012 issue of The International Journal of Oncology. 

This is now the third published study from a major university to show significant results of my multi-nutrient prostate formula against the invasive behavior of aggressive prostate cancer cells, tumor growth and metastasis." 

You can view the original study at this link or see what what Dr. Eliaz makes of it in his article: Study Proving Botanical Formula Fights Prostate Cancer Without Toxicity. 
Remember that prostate cancer is slow growing and that most men will die of something else than their prostate disease. So you have time to change your diet and combine herbal cancer treatments.
---
We will talk more about the cause of prostate cancer, cancer carcinogens and prostate cancer cures in the section on prostate cancer, or in the meantime check out my book, Healthy Prostate, for more information than I can provide here. 
Go from Cause of Prostate Cancer 1 to Cause of Prostate Cancer 2
Got a Question or Comment about your Prostate Health?
This is the place to post them because I get them immediately.

I like to share them and the answers I provide so others can benefit too.

Your email is kept completely confidential. If you want to be notified when the question is answered, please make sure to add your email address. I don't collect or store these emails after they are used to send you your answer, and they are not posted with your question.
What Other Visitors Have Asked or Said
Click below to see contributions from other visitors to this page...

biopsy
How high are the chances of a biopsy spreading cancer cells from within the prostate gland to outside the gland? -------------- Ron here... The …