Custom Search
Castor Oil Treatment for Your Prostate Problem
The castor oil treatment is prepared with an oil that has been used for centuries to heal. 
Castor oil comes from the seeds of the castor plant. It is a very thick oil and penetrates deeper into the skin than any other oil. Castor oil cures have been used for both internal and external therapeutic and medicinal benefits. Read more about it here: Castor Oil's Many Forgotten Uses. 
A castor oil treatment pack is an effective way to apply the castor oil directly to the affected area so that it can penetrate deeply to remove toxins. It will increase circulation to the area and speed up healing. In our case, the pack will be applied to the prostate area. The ideal is to do both the perineum area and the prostate area just below the bladder. 

The oil is very thick so you need to prevent it from getting on your bedding. Follow the instructions below.

Castor Oil Treatment Materials
Wool flannel cloths, enough to fold over to a thick pad to cover the perineum (between the anus and testicles) and another for the front prostate area. You can alternate areas every second night instead doing both at the same time.
Plastic coverings (plastic wrap to contain the oil). Hot water bottle or electric heating pad.

2 old towels — one to protect your bed under you and the other on top of the pack.

Natural castor oil. Buy at your health food store or here: Natural Castor Oil.
Castor Oil Pack Procedure
Soak the thick cloth with castor oil. It should be saturated but not dripping wet.
Place the pack on the prostate area (or areas).
You can wear an old pair of underwear (not a bad use for those dead ones!) on top of the pack to protect everything. You can skip the plastic this way if you want.
Cover the pack with plastic and place a hot water bottle or heating pad over the pack.
Cover with a towel to keep the heat contained.
Leave the pack on for 30–60 minutes. Use the castor oil pack for a week.
You will need to add a bit more oil each time to your cloth, which you can store in a jar and use over and over again.
Store the pack in a cool place or refrigerator until next use.
Remember the oil does stain, but the stains can be removed with baking soda.
You can rub excess oil into your hands and skin, as it is very good for skin and hair (known to thicken it).
Modified Hot/Cold Castor Oil Treatment Version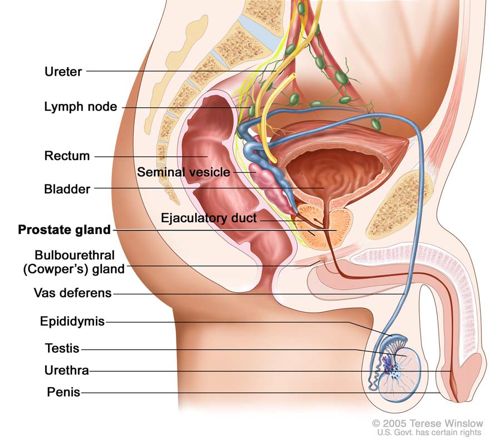 Do the castor oil pack as described for just 10 minutes. Then remove the heat and apply an ice pack for 5 minutes. Alternate between hot and cold for about an hour. 
You may need several cold packs on hand as well as a heating pad to retain enough heat. Alternating like this will increase circulation to the prostate area to allow healing. This is also useful for prostate cancer.
Got a Question or Comment about your Prostate Health?
This is the place to post them because I get them immediately.

I like to share them and the answers I provide so others can benefit too.

Your email is kept completely confidential. If you want to be notified when the question is answered, please make sure to add your email address. I don't collect or store these emails after they are used to send you your answer, and they are not posted with your question.
What Other Visitors Have Asked or Said
Click below to see contributions from other visitors to this page...