Custom Search
Sexual Prostate Massage:
The Ultimate in Orgasmic Sex
for Men
Men: if you haven't yet discovered the world of sexual prostate massage, you have been missing out on the sex of your life.
That's quite a statement, but know that your prostate is your key to the best sex ever. Why? Because the prostate is designed to optimize your sexual function. That little prostate gland has a world of functions but its secret is the best sex possible.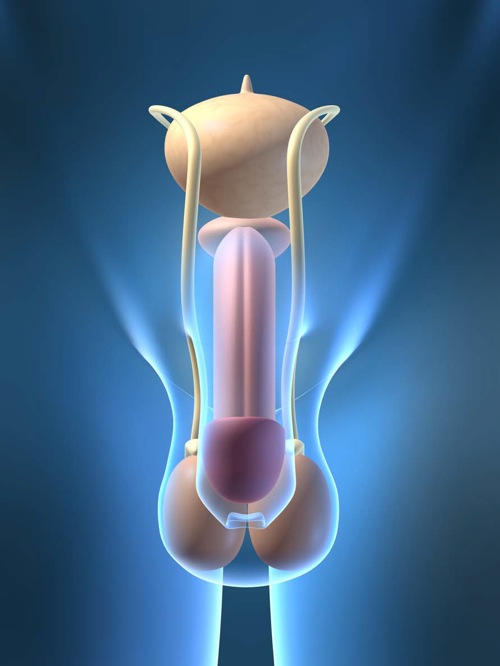 Under the big yellow bulb above - the bladder - sits your prostate gland. It is filled with nerves and muscle. Attached to it are the prostate erection nerves that control your erections.
Doing sexual prostate massage stimulates both the prostate itself and the prostate erection nerves. Knowing how to do a sexual prostate massage is the key to your intense pleasure.

How to massage your prostate
The key is doing your prostate massage safely and gently using subtle motions rather than hard forceful ones.
The first step is to understand sex and prostate health. If you have a prostate condition then it is even more essential that your massage is gentle. The stimulation caused by a prostate massage is very beneficial to your prostate as it moves stagnant fluids out of the prostate, often called prostate milking, and increases blood flow.
Just the massage itself will be of great benefit.
Here are the steps to do:
Have a bowel movement if you can.
Have a shower to get clean.
If you want, have a hot bath to relax your body completely.
Place a towel on your bed and lie down on it.
Put some KY Jelly or other lubrication on your middle finger or your lover's and on your anus. You can also use a prostate massage device instead. These are specially designed for this purpose, are very safe to use and are actually the best way to get maximum sexual prostate massage pleasure. Why? Because the device presses on more of your prostate than your finger can, and it is done under your control using your sphincter muscle contractions. More on these wonderful devices later or click here to see them now.
Gently make circular motions on your anus with the device or finger so as to relax the anus completely, especially if you are new to the touch there. Many of us have strong negative feelings about anal stimulation and fears that it is not masculine at all. Get over this guys! It is an erogenous zone well worth getting to know because it is the gateway to your prostate and that leads you to a world of sexual orgasms like no other. You'll see!
Slowly start to press inwards after you have enjoyed the feelings of anal stimulation. Make sure you have plenty of lube. As you press inwards, your finger or the device will slide in a bit. Wait and allow that feeling to be comfortable. You do not need to push hard at all.
Once you are relaxed with that feeling, tilt your finger or prostate massage device upwards towards your tummy. This is the right angle now for further entry into the anal canal. With a little push your sphincter muscle will grab the finger or device and pull it inwards. Now you are home!
You are now touching the prostate through the thin rectal wall. This is what your doc does during a Digital Rectal Exam, but sadly, that is unpleasant, done quickly and forcefully by most doctors who are poorly trained in this technique.
Just relax and breathe now and let the feelings wash over you. No pain, no discomfort, just a warm, full feeling that is very pleasurable.
With your finger or your lover's, or your device, you can very gently allow a gentle come-hither motion to rub the prostate. If using the device, all you have to do is gently squeeze with each breath and the massager will move across your prostate.
Do this for 10-20 minutes, allowing the sensations to warm you and to feel great.
At any time now, you can start the sexual prostate massage.
Sexual Prostate Massage
There are 2 ways to do that:
stimulate your penis sexually,

or do not do that, but rather let the massage continue with the massager and you will find that you will eventually experience sexual orgasm without coming! Yes, this is the world of multiple male orgasms, and it is the prostate that is the gateway for that, especially achievable with the prostate massage device!
We'll add more about this amazing technique on another page. But in the meantime, either via masturbation or sexual stimulation by your partner, you will experience an orgasm like no other. The duration will be longer and the amount of ejaculate will be greater. Both combined will bring a huge smile to your face!
Remember to be gentle with your massage as the prostate is a sensitive gland and needs light stimulation for its incredibly pleasurable results.
This picture below shows what the Aneros Prostate Massager looks like. The tab on the left presses against your perineum (the key external male G-spot between your anus and scrotum) which stimulates your prostate. The right handle helps with insertion. You can see that the tip is broader than a finger tip and thus massages more of your prostate's surface.

This simple device gives amazing health results and pleasure to men...
---

Go from Sexual Prostate Massage to Self Prostate Massage
Got a Question or Comment about your Prostate Health?
This is the place to post them because I get them immediately.

I like to share them and the answers I provide so others can benefit too.

Your email is kept completely confidential. If you want to be notified when the question is answered, please make sure to add your email address. I don't collect or store these emails after they are used to send you your answer, and they are not posted with your question.
What Other Visitors Have Asked or Said
Click below to see contributions from other visitors to this page...