Custom Search
Prostate Massage Health: Crucial for Men's Prostate Health and Pleasure
Prostate massage health is important for your health and pleasure. By learning how to do safe prostate massage you can help prevent or reduce prostate problems like an enlarged prostate or BPH. Prostate massage can also improve your sex life:
it can strengthen your perineum area that controls many nerve endings including the prostate erection nerves
it can increase blood flow to your prostate helping to flush out dangerous toxins that are so prevalent in our food and environment
it can help with erectile difficulties by strengthening your muscles that control erections

There are several ways at least to do prostate massage.
First you can do prostate exercises like kegel exercises that will strengthen your prostate muscles. Please note that the prostate is both a gland that secretes fluids and is also a muscle that does the pumping of ejaculate.
Strengthening the prostate thus can increase the flow of fluids and intensify the pumping experience that makes sex so desirable.

These prostate exercises are easy to do any time any place because only you will know you are doing them. You can do them when walking, standing, sitting or driving.

All you have to do is squeeze your perineum muscle: that's your stop-pee muscle. Do these prostate exercises as often as you can and you will notice improvements in your prostate massage health automatically.
This is a form of self prostate massage known as external prostate massage.

Prostate Massage Health Methods

You can also do other forms of external prostate massage. The next easiest to do is to massage your perineum area with your fingers.
The perineum is between the anus and the penis. In fact it is the external G-spot for men. It is a key acupuncture point as well but I don't advise placing needles there yet!
Use some coconut, almond or castor oil to massage the area using a circular motion. You will know when you find the exact spot. You can then press deeper. You can also find it by squeezing and it will be obvious.
The easiest way to do this massage is by lying on your back leaning up on your pillows with knees bent.

This spot and its squeezing is very good for a completely safe prostate massage. It will also help strengthen your sexual ejaculation control.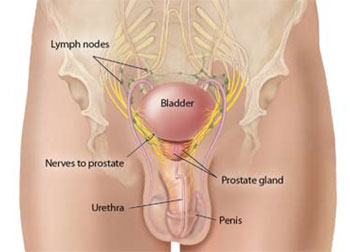 Of course you can also have your lover massage you there if desired. Prostate massage is relaxing and very healthy. Adding sexual stimulation makes prostate massage even more fun!
Try experimenting with both kegel squeezes and direct perineum massage as your first steps before trying internal prostate self massage.

Safe Prostate Massage

Internal prostate massage using a finger or a special prostate massage device if done properly is fine for a safe prostate massage.
Prostate massage with a finger is easy to do. A prostate massage device actually is even easier to do with added bonuses. With a proper massage device, you can massage more of the prostate's surface than with your finger.
As an added benefit, the device shown below massages your prostate by your doing kegel squeezes which helps you strengthen your prostate at the same time. The squeezes cause the massage device to move inwards and outwards a bit. As it does this the prostate gets massaged.
Blood flow is increased. The prostate muscles are toned. Prostate milk (the secretions that are made in the prostate gland) can be released without stimulation or with if desired.

Plus it is very safe to do as it cannot be pushed in too far because of its great design. The device also massages your external male G-spot with the abutment tab. You can read even more about it here.

The key is to be very gentle — especially if you have a prostate condition. You can learn how to do prostate massage on this site or by getting my book: The Prostate Massage Manual.
Prostate massage health is something men can learn to do at any age. It will improve your prostate health and add pleasure as a bonus.

~ ~ ~ ~ ~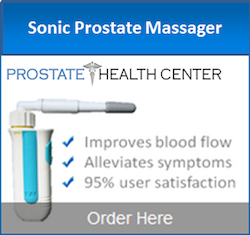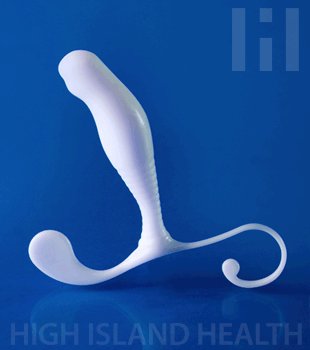 Go here to learn how to do internal prostate massage with or without a prostate device.
Got a Question or Comment about your Prostate Health?
This is the place to post them because I get them immediately.

I like to share them and the answers I provide so others can benefit too.

Your email is kept completely confidential. If you want to be notified when the question is answered, please make sure to add your email address. I don't collect or store these emails after they are used to send you your answer, and they are not posted with your question.