The symptoms of prostatitis are similar to other diseases of the prostate, yet there are some distinct differences. Prostatitis is different in that essentially it's an infection and/or inflammation of the prostate gland. There are several varieties of prostatitis, which fall into four categories. 
Although many of the symptoms of prostatitis resemble that of BPH, it is known to occur in men of any age. One thing that differentiates prostatitis from BPH is possible pain in the perineum, testicles, lower back and abdomen. 

You may have discovered that you have prostatitis in various ways. For example, you may have had just one prostatitis symptom, you may have discovered it in a complete physical exam, a digital rectal exam (aka DRE) and/or other prostate tests. Personal and/or family history may have played a role. 

When it comes to diagnosis, the most crucial test is a urinalysis. Your doctor will use this to figure out which kind of prostatitis you have. All kinds of other tests might include the cystoscopy in which a camera is inserted up the penis to see the bladder and prostate, a CT scan, an ultrasound, an X-ray and a blood test. 


Symptoms of Prostatitis
As mentioned above, you'll see by the following list of symptoms of prostatitis that there are many similarities to BPH, and there are also differences to watch out for: 
Frequent peeing throughout the day, but also at night
Difficulty urinating, which is characterized by dribbling or hesitation

Pain or burning feeling when peeing

Urgency to urinate

Pain in the abdomen, groin or lower back

Pain in the perineum

Pain in the penis or testicles

Painful ejaculations

These symptoms of prostatitis may be present across the board for the four types, but each one comes with its own set of more individual, possible symptoms. Let's take a look.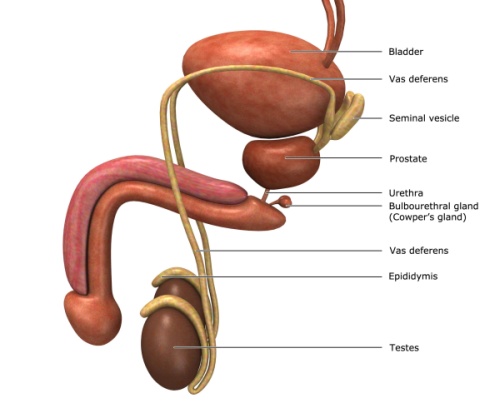 Acute Prostatitis or Acute Bacterial Prostatitis 
Acute bacterial prostatitis may be due to bacteria, a virus or a sexually transmitted disease (STD). Men with acute bacterial prostatitis will likely suffer the classic symptoms of infections such as fever and chills, nausea, vomiting and an overall feeling of malaise or yuckiness. 

They'll have to urinate frequently, which will be painful and not very satisfying because it will be a weak flow. Prostatitis can also have quite the opposite effect - infrequent urination. Some men may experience lower back pain as well. 

Chronic Bacterial Prostatitis 

Chronic bacterial prostatitis is much less common and can be due to a bacterial condition or an inflammation of the prostate. It is considered chronic because it is an ongoing condition characterized by bacterial infection located in the prostate. 

Symptoms could include: 

frequent urinary tract infections that are mild or flare up into bladder infections
occasional or frequent bladder infections that are minor to acute

frequent urination

persistent pain in the lower abdomen or back
Chronic Prostatitis or Chronic Pelvic Pain 

This most common type of prostatitis is known by several names and accounts for 90% of all cases. It may be known as chronic prostatitis without infection, chronic nonbacterial prostatitis, or chronic pelvic pain syndrome. 

Why men chronic prostatitis is not well understood, but it's thought to be related to stress and irregular sexual activity. It may also be linked to activities like operating heavy machinery, driving a truck, or other activities that expose the prostate to strong vibrations, which may cause an inflamed prostate. Cycling and jogging may also cause irritation to the prostate gland. 

Chronic prostatitis symptoms range from mild to painful, or remain the same over a period of time, and can include: 

recurrent pelvic, testicle/genital pain
rectal pain

painful urination or ejaculation

erectile difficulties

Asymptomatic Inflammatory Prostatitis 

Lastly, if it's found that your prostate is inflamed while you are undergoing a test for other reasons, and you have no other symptoms of prostatitis or prostate issues, your case will be labeled as asymptomatic inflammatory prostatitis. 
According to the medical profession, bacterial infections similar to those found in bladder infections are the main cause of bacterial prostatitis, while possible causes of chronic prostatitis/chronic pelvic pain may include: stress, immune problems, infections, injury and prostate stones, a food allergy, or a virus. 

To learn more about treatment for prostatitis, visit this page. For an extensive examination of prostatitis symptoms and treatment, my book Healthy Prostate will cover these points and much more.
Return from Symptoms of Prostatitis to Home Page 
Got a Question or Comment about your Prostate Health?
This is the place to post them because I get them immediately.

I like to share them and the answers I provide so others can benefit too.

Your email is kept completely confidential. If you want to be notified when the question is answered, please make sure to add your email address. I don't collect or store these emails after they are used to send you your answer, and they are not posted with your question.
What Other Visitors Have Asked or Said
Click below to see contributions from other visitors to this page...