Custom Search
Watch These Prostate Massage Videos to Learn The Benefits of Internal Prostate Massage

This 3-part series of prostate massage videos will explain in detail the many benefits of prostate massage for sex and prostate health:
Helps remove toxins from the prostate gland.
Increases blood circulation for added cleansing.
Improves sexual health.
Increases sexual stamina.
If the prostate massage is done with sexual stimulation, it will increase ejaculation amount and duration.
Not a bad list of useful benefits!
While most men have never done a prostate massage either by themselves or by their partner, it is now becoming something that more and more men are learning about and doing.
Did you know that prostate massages were done by doctors 50 years ago as part of a digital rectal exam? Yes it was done for health by milking the prostate, a term used to remove some fluids from the prostate without the need for an erection and orgasm.
It is quite normal for a prostate massage to release some fluids even without an erection. That is why it was standard procedure for them to do this for the health of the prostate.
Today we can discover the benefits for both sex and prostate health of doing an internal prostate massage.

New invention for prostate massage:

We are lucky today because a new invention has made it possible for men to do a prostate massage by themselves way better than with the third finger or by a lover's finger.
The Aneros prostate massager as shown in these prostate massage videos has several features that make it so effective:
It is designed to be just the right length so as not to go in too far which would be unhealthy. Being gentle is the key and the size matters!
Because of the perineum abutment tab, not only does it go inside the anus the correct distance but also the tab massages the external male G-spot at the same time.
The size of the head is just right for covering way more than your fingertip can do. More of the prostate is massaged.
It is designed to massage hands free once inserted by doing simple kegel squeezes or prostate exercises by squeezing and releasing the sphincter muscle.
If you have never tried a massage device like the Pro-State Massager, it is well worth trying.

Pro-State Prostate Massage Device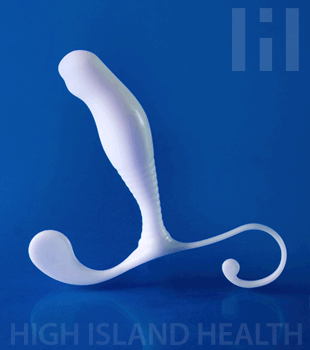 The perineum abutment is on the left and the handle for insertion on the right side. The shape is designed to stay inside once inserted and the tip massages both the main part and the side of the prostate.
The trick to using them is to apply lubrication liberally. Just follow my instructions to insert it.

Prostate Massage Videos

Sometimes they are referred to as a prostate milking video. It's the same thing. Prostate milking can be the end result of a prostate massage whereby some fluids come out of the flaccid penis while massaging, or in the case of sexual stimulation, on orgasm.
Watch this prostate massage video Part 1, and then you can click for Parts 2 and 3.

Go from Prostate Massage Videos to Prostate Milking Massage
Got a Question or Comment about your Prostate Health?
This is the place to post them because I get them immediately.

I like to share them and the answers I provide so others can benefit too.

Your email is kept completely confidential. If you want to be notified when the question is answered, please make sure to add your email address. I don't collect or store these emails after they are used to send you your answer, and they are not posted with your question.
What Other Visitors Have Asked or Said
Click below to see contributions from other visitors to this page...

Prostate massage with catheter in.
Firstly - what great website you have - exceptional. Secondly - I have been diagnosed with inflamed prostate and Dr wants to do a TURP but I am resisting …