Custom Search
Sex And Prostate Health:
What You Need To Know for Optimum Prostate Health
Sex and prostate health are an important area of concern for men. And rightly so.
Does sex harm your prostate gland?
Is sex good for your prostate?
Is too much sex harmful?
Is too little sex harmful?
What about if you have a prostate problem?
What about sex after prostate surgery?
What about sex after prostate cancer?
What about prostate massage benefits?
Can prostate massage be non-sexual?
What about sexual prostate massage?
What erectile difficulties can happen?

These questions trouble men and often men are afraid to ask them or share with other men. Well we will provide answers to these questions.
Does sex harm your prostate gland?
The obvious answer is NO!
Sex in general is very good for your prostate whether by yourself or with a partner. We were designed to have sex as a natural part of life.
Releasing seminal fluids and ejaculate both produced in the prostate and other areas of the sexual organs is highly beneficial to the prostate because it moves fluids that can stagnate in the prostate.
Review the 10 functions of the prostate gland.
However, that all said, there may be times when we have to be careful around the prostate. If you have severe inflammation from an infection in the prostate, or prostatitis, then it may be best to get the advice of your doctor first.
Sex and prostate health do go hand in hand! We will examine the question of frequency later on.
Is sex good for your prostate?
Sex is a natural and very beneficial function for the prostate gland because it moves fluids and helps to reduce toxins that can build up in the prostate gland. Remember one of the functions of the prostate is to remove toxins. One of the reasons that prostate massage is recommended is to help in the removal of these toxins. Sex does this automatically as long as we ejaculate.

Sex And Prostate Health:
Too much or too little sex ... harmful?
This is the question for sex and prostate health.
Too little can lead to stagnation and too much can weaken the body by depleting energy reserves.
Monks and recluse meditators benefited from non-sexual prostate massage because otherwise a stagnant prostate could not eliminate toxins in celibate monks. Prostate massage provides stimulus to the prostate resulting in increased blood flow, fluid movement and improved prostate health.

In the Tantric and Taoist traditions of the East, advanced sexual techniques were developed so that men could control their ejaculations. It was thought that frequent ejaculations would weaken a man. So techniques of injaculation were developed whereby semen is released internally and retained in the body.
Developing control of the male G-spot, the prostate gland, is how this was done. You can practice this yourself by doing prostate kegel exercises and by pressing firmly with your finger on the external male G-spot just before the point of no return.
This spot is the perineum area just about an inch below the scrotum. Try this technique. You can experience wonderful orgasms without ejaculation if you master the method.
So, how often is it OK to ejaculate externally?
The best barometer is to see how you feel. If you feel tired and drained by it then reduce the frequency. If it leaves you feeling great, then sex and prostate health is a natural.
In those Eastern traditions, the older a man became, it was recommended he ejaculate less ... but injaculations were fine.
According to Traditional Chinese Medicine one should ejaculate using your decade for the number of times per days: eg. if you are 30, then every 3 days, if you are 70 every 7 days. If you want to do more then learn injaculation techniques.

What about sex after prostate surgery?
Sadly, sex after prostate surgery becomes a problem for many men who have gone under the knife. The reason is simple: the prostate erection nerves are easily damaged. Once this happens, normal sexual function can be compromised.
This new study proves the point:

"Up to 10 years after treatment, more than 95 percent of men had some degree of sexual dysfunction, Taylor's team found. And about half had urinary symptoms."
Side Effects Persist After Prostate Cancer Treatment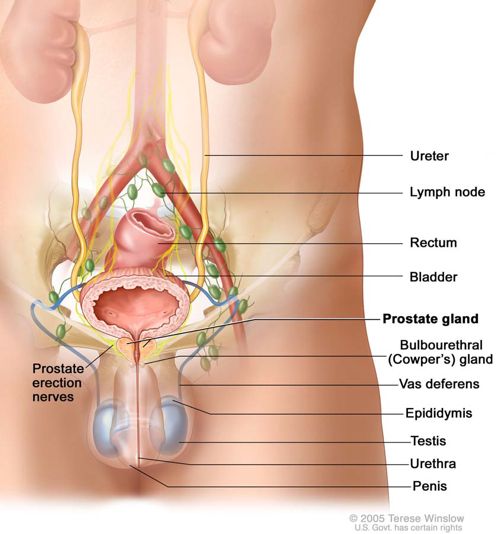 Please read more here on the site about the risks of prostate surgeries, drug treatments and natural alternatives. I go to great lengths to explain all this in my book ... Healthy Prostate. The best solution is a natural one where you remove the causes of your prostate condition and allow your body to heal naturally.

What about sex after prostate cancer?
Similarly, sex and prostate health after prostate cancer depends a lot on the treatment type you have received. Prostate surgeries combined with chemotherapy are the worst in terms of sex after prostate cancer. Virtually all mainstream medical treatments for prostate cancer do not have good outcomes for sex and prostate health.
Remember that your prostate gland is crucial for so many functions and is easily compromised by modern treatments for prostate cancer. It is much better to undergo watchful waiting while doing all you can to improve your health by removing toxins and improving your lifestyle. Cancerous cells can then disappear while your immune system gets stronger.
Studies now confirm that life expectancy is not improved by prostate cancer surgeries and intervention. For optimum sex and prostate health, natural healing is the choice with the best outcomes.

What about prostate massage benefits?
Prostate massage is very beneficial for sex and your prostate health. Why because it removes toxins allowing stronger and longer erections. Many men with erectile difficulties benefit from prostate massage.
Prostate massage can be non-sexual. It used to be routinely done by urologists up until about 30-40 years ago.
Read more about prostate massage benefits.

What about sexual prostate massage?
No doubt about it: for most men, sex and prostate health can be enhanced by sexual prostate massage. You get the release of maximum toxins this way as well as increased blood flow and flushing with the extra stimulation.
All that is needed is the intention to make the massage sexual, either done by yourself or your partner. The best way to do an internal sexual prostate massage is with a specially designed prostate massage device.
These tools are designed to do an optimum massage.
Go from Sex and Prostate Health to Healthy Prostate
Got a Question or Comment about your Prostate Health?
This is the place to post them because I get them immediately.

I like to share them and the answers I provide so others can benefit too.

Your email is kept completely confidential. If you want to be notified when the question is answered, please make sure to add your email address. I don't collect or store these emails after they are used to send you your answer, and they are not posted with your question.
What Other Visitors Have Asked or Said
Click below to see contributions from other visitors to this page...