Custom Search
The Digital Rectal Exam or Prostate Check
All men should have an annual Digital Rectal Exam, also known as DRE, or Prostate Check, during their doctor's visit. It is an important step to know the health of your prostate. 
Your doctor may scare you with his views on what to do if he finds a prostate problem during this prostate exam. But take the information as your key to find your solutions and to heal yourself naturally. 

Remember you are in control of your body. Do not succumb to your doctor's scare point of view. That's how doctors see the world. They see symptoms and do not understand root causes. That is what this site is about but first you need to understand the prostate to know how to heal it. 

While not a man's favorite to say the least, the Digital Rectal Examination will give you and your health practitioner some idea of the state of your prostate gland. 

Your doctor will insert his forefinger up your butt (rectum). It is then quite possible for him to feel your prostate gland and to determine its general health and condition. 

Enlarged prostates or cancerous growths and lesions or lumps or irregularities can be felt by the rectal exam or prostate check. 

It is not painful if done properly. Your doctor will lubricate his gloved finger with KY jelly to make it easier to insert. 

Unfortunately, most practitioners need some training to take a little more time for the rectum to relax before pushing the finger in. 

The best way is for the finger to first touch the rectum gently so that the muscles can relax. Insertion then becomes easier if done slowly. Ask him or her to take their time so that the digital rectal exam is more comfortable.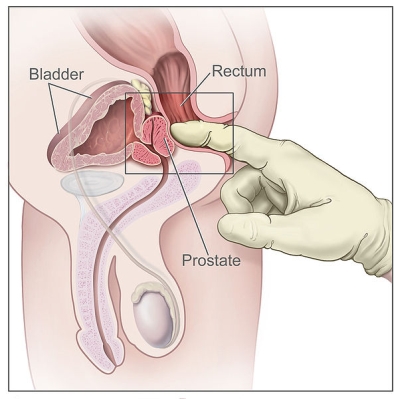 Digital Rectal Examination: side view of the male reproductive system and urinary anatomy, including the prostate, rectum, and bladder. 
The urethra is the urine tube running from the bladder and out through the penis. The key section is the prostate urethra that runs through the prostate gland. An enlarged prostate will squeeze the tube and make peeing difficult.
Read more here: DRE

---

My Digital Rectal Exam...


Some doctors can easily misdiagnose an enlarged prostate because they are not a urologist or specialist who does this prostate check countless times. 
I remember my GP diagnosing that I had an infected bladder, not an enlarged prostate or BPH, when I first came in after being unable to pee! She just did not have enough experience to know what the urologist felt several days later – an enlarged prostate! To her, it did not feel abnormal. 

The urologist may also insert a camera catheter (cystoscopy) to do a prostate check or prostate examination. This is a whole other procedure but the camera then allows the doctor to see the inside of the prostate and bladder. 

Of course, this procedure enters not through the rear as in a normal DRE, but through the front! Down the penis inside the urethra through the prostate gland and into the bladder. Prostate problems can create all sorts of symptoms related to the bladder. 

Yup, this one does hurt especially if done fast as my urologist did! The catheter and camera size is not small. They do use a local anesthetic but it did not make much difference to me! 

I will talk a lot more about male catheters and catheter insertion as well as how to use them safely when instant relief is required on another page. 

Here's how you can do your own Prostate Check. 
Return from Digital Rectal Exam to Prostate Gland

Go to Prostate Examination
Got a Question or Comment about your Prostate Health?
This is the place to post them because I get them immediately.

I like to share them and the answers I provide so others can benefit too.

Your email is kept completely confidential. If you want to be notified when the question is answered, please make sure to add your email address. I don't collect or store these emails after they are used to send you your answer, and they are not posted with your question.
What Other Visitors Have Asked or Said
Click below to see contributions from other visitors to this page...

Burning Urination in BPH
My father is 79 yrs and has prostrate size 118 gms. He is taking Urimax D since 2 months now. Burning after urination persists. Please suggest how to handle …