Custom Search
Self Prostate Milking and Massage

Self prostate milking and massage is great for your health and pleasure. It is something for men to use by themselves or for women to do for their man.
It can be done with or without sexual intent.
Let's talk about it just from the point of view of health for your prostate.
Prostate massage is a wonderful technique to learn. Why? Because it makes your prostate more healthy by increasing blood circulation within the prostate and by removing stagnant fluids by releasing prostate milk or fluids.
Why is it called prostate milk? Because it is the prostate that produces the milky colored fluid that adds to the ejaculate that is formed in the other reproductive organs.
Look at this prostate diagram and you can see that sperm is created in the testes, your balls, and then collects more fluids from the seminal vesicles as it travels up from your testes. The prostate creates about 30% of the ejaculate fluid.
When you massage the prostate non-sexually, then the only fluid that is released is that which is made right in the prostate: the milky colored fluid. Self prostate milking then refers to the technique to allow this fluid to escape the prostate.
Removing this fluid through prostate massage is very healthy because it is this stagnant fluid that can cause prostate problems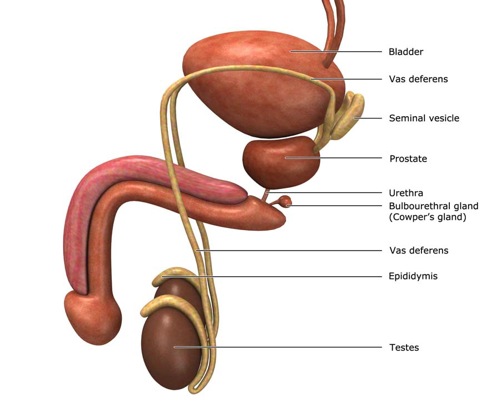 Prostate massage can be done both externally and internally. External prostate massage is a great way to reap the benefits of massage but is unlikely to remove stagnant prostate fluids. For that you need to do internal prostate massage.

Self prostate milking and
prostate milking massage
There are several ways to do internal prostate massage. You or your partner can do it with your finger. It must be done carefully and gently, and is the way it has been done for thousands of years.
You can also use a massage device that is designed for that purpose. A prostate massager is perfect for the purpose because it ensures that you get a fuller massage while at the same time protecting you. It can only go in far enough but not too far. The Aneros prostate device is the originator of these types.
The third way is with an electronic pulsating prostate device. These are faster to use and easier.
Now this is an important piece of information: if you have a prostate condition, you can do the massage but find no prostate milk comes out. This is normal especially if you have an enlarged prostate. So do not be worried! You are still increasing the blood flow. You are still moving stagnant fluids and some will move out later on as it works its way out and becomes part of your urine flow.
So learning how to milk the prostate is easy and will reward you with increased health.
Here is a picture of the easy to use massage device.

High Island Pro-State Prostate Massage Device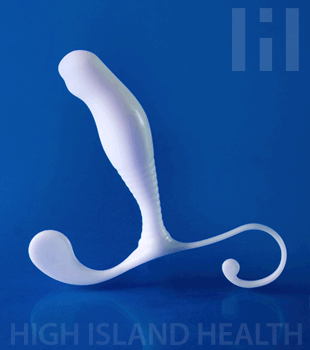 ---
Sexual prostate massage
Sexual prostate massage can add a whole other dimension to your sex life. When you do both self prostate milking and massage with sex in mind, then the orgasm is much longer and more powerful. Most men would like this added bonus! The only difference is to add some kind of sexual stimulation and that's it! But wait until after you have done the massage for a while first. This way you get both benefits.

Go from Self Prostate Milking and Massage to Prostate Massage Benefits
---
Got a Question or Comment about your Prostate Health?
This is the place to post them because I get them immediately.

I like to share them and the answers I provide so others can benefit too.

Your email is kept completely confidential. If you want to be notified when the question is answered, please make sure to add your email address. I don't collect or store these emails after they are used to send you your answer, and they are not posted with your question.
What Other Visitors Have Asked or Said
Click below to see contributions from other visitors to this page...